El proyecto liderado por ISTAS se desarrollará conjuntamente con las siguientes organizaciones:


The project will be led by ISTAS and will be developed with the following partner organizations:
Associazione Bruno Trentin – ISF- IRES (Italy)
El IRES (Instituto de Investigación Económica y Social) fundado en 1979 por la Confederación General de Trabajadores Italianos (CGIL) es en la actualidad una asociación sin ánimo de lucro especializada en la investigación económica y social. IRES ha luchado por desarrollar un vínculo dinámico entre la teoría y la investigación, el conocimiento y el movimiento sindical. Sus investigaciones se centran en aspectos relacionados con el trabajo, la economía y los cambios sociales.
IRES, (Economic and Social Research Institute), founded in 1979 by the Italian General Workers' Confederation (CGIL) and today is a non-profit association, specialised in economic and social researches. IRES has always strived to develop dynamic linkages between theory and research; knowledge and trade union movement, so that researches have been focused on issues related to labour, economy and the changing society.
Dokuz Eylül University
La Universidad Dokuz Eylül fundada en Izmir, Turquía en 1982 ha logrado desarrollar en algunos de sus campos objetivos de mejora continua de la educación, la investigación y la práctica a través de las normas ISO 9001 2000 de sistemas de gestión de la calidad. Su departamento de salud laboral fundado en 2008 tiene entre sus objetivos el desarrollo de proyectos y la cooperación con instituciones nacionales e internacionales en el campo de la salud laboral.
The Dokuz Eylül University was founded in Turkey in 1982. Several components of Dokuz Eylül University have attained a goal of continuous development in education, research and practice through the ISO 9001 2000 Quality Management System certificate. Dokuz Eylul University Occupational Health Centre was established in 2008. The Centre aims at developing projects and cooperating with national and international institutions in the field of occupational health.
http://www.deu.edu.tr/deuwebv2/en/
Émergences, France
Fundada en 1985 en Francia, Émergences es una organización especializada en formación, asesoramiento y transferencia de conocimientos en una variedad de campos, entre los que se encuentra la salud y seguridad en el trabajo. Entre sus actividades se encuentra el desarrollo de programas de formación para representantes sindicales, agentes socio-económicos y trabajadores. Émergences participa en proyectos financiados por la UE con el objetivo de analizar el impacto de los cambios socioeconómicos en el trabajo y la salud.
Founded in 1985 in France, Émergences is an organization specialized in training, advisory and expertise transfer in a variety of fields. Occupational health and safety training is among the different topics covered by its activity. Among its activities are the development of training programmes for staff representatives, social economy manages and employees. Émergences participates in EU–funded projects aimed at analyzing and understanding the impact of socio-economic changes on work and occupational health.
GREDS – EMCONET (UPF).
El Grupo de Investigación en Desigualdades en la Salud (GREDS) - Employment Conditions Network (EMCONET) es un grupo de investigación de la sección de Sociología del Departamento de Ciencias Políticas y Sociales de la Universitat Pompeu Fabra (UPF), que tiene como objetivo principal la generación de información científica, la transferencia de conocimiento a la sociedad y la formación de investigadores en relación al origen, producción y acciones políticas necesarias para conocer y hacer frente a las desigualdades sociales en salud.
The Health Inequalities Research Group is based in the Department of Political Social Sciences at the Universitat Pompeu Fabra in Barcelona. The goals are to generate scientific information, transfer knowledge to civil society and train researchers in the area of health inequalities, focussing on the social origin and production of these inequalities as well as the political action necessary to tackle health issues.
http://www.upf.edu/greds-emconet/en/presentacio/
INAIL, Italy
INAIL: Instituto nacional para el seguro contra los accidentes en el trabajo (Italia) El INAIL es una entidad pública que ofrece servicios, con personalidad jurídica y con gestión autónoma. En el ámbito de sus funciones institucionales persigue múltiples objetivos: reducir los accidentes, asegurar a los trabajadores que desempeñan actividades de riesgo y garantizar la reinserción de los trabajadores accidentados en la vida laboral y social.
INAIL - The Workers Compensation Authority, Italy. INAIL is a state body which pursues several objectives: the reduction of accidents at work, the insurance of workers involved in risky activities; the re-integration in the labour market and in social life of work accident victims.
http://www.inail.it/internet/default/multilingua/EN/index.html
ISTAS
Fundado en 1996, el Instituto Sindical de Trabajo, Ambiente y Salud (ISTAS) es una fundación autónoma de carácter técnico-sindical promovida por Comisiones Obreras (CCOO), con el objetivo general de impulsar actividades de progreso social para la mejora de las condiciones de trabajo, la protección del medio ambiente y la promoción de la salud de los trabajadores y trabajadoras en el ámbito del Estado Español.
ISTAS (Union Institute of Work, Environment and Health) Founded in 1996 ISTAS is a self-managed trade union's technical foundation, supported by the Spanish Trade Union Confederation CCOO, to promote the improvement of working conditions, occupational health and safety and environmental protection in Spain.
http://www.istas.net/web/index.asp?idpagina=2982
Organizaciones asociadas / Associated organisations
ETUI (European Trade Union Institute)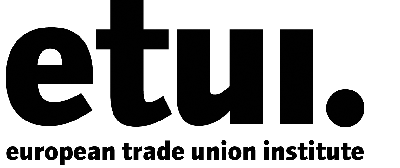 El ETUI es un centro independiente de investigación y formación asociado a la Confederación Europea de Sindicatos. Su actividad se centra en vínculos con universidades y redes científicas. El ETUI está al servicio de los intereses de los y las trabajadores y trabajadoras europeos y trabaja por el fortalecimiento de la dimensión social de la Unión Europea.
The European Trade Union Institute is the independent research and training centre of the European Trade Union Confederation (ETUC) which itself affiliates European trade unions into a single European umbrella organisation. The ETUI places its expertise in the service of workers' interests at European level and of the strengthening of the social dimension of the European Union.
EU-OSHA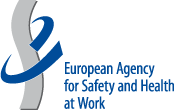 La misión de la Agencia Europea de Seguridad y Salud en el Trabajo (EU-OSHA) consiste en dotar a Europa de un entorno de trabajo más seguro, saludable y productivo. Fomentamos la cultura de la prevención de riesgos laborales para mejorar las condiciones de trabajo en Europa.
The European Agency for Safety and Health at Work (EU-OSHA) is a EU organization committed to making Europe a safer, healthier and more productive place to work. We promote a culture of risk prevention to improve working conditions in Europe.
IF Metall, Sweden

IF Metall es un sindicato que trabaja para asegurar que sus afiliados y afiliadas son tratados justamente y por la mejora de los salarios, las condiciones de trabajo, la influencia en el trabajo y la estabilidad en el empleo. Agrupa a más 350,000 afiliados y afiliadas en unas 12,000 empresas de la industria en Suecia.
IF Metall is a trade union that works to make sure that all its members will be treated fairly and get better wages, better working conditions, more influence and greater job security. It has over 350,000 members at nearly 12,000 workplaces all over Sweden.
http://www.ifmetall.se/ifmetall/home/content.nsf/aget?openagent&key=in_english_1298303750531